We all know why Windows operating systems are popular among the users, as this OS provides a very user-friendly Operating System in the world.
But there is nothing perfect as the Windows system start showing some error messages affect the entire work and other activity of users over their computer system or laptop.
In this blog, I am going to discuss about "How to Fix Error 651 or Error Code 651 in Windows 7/8.1/10?" This error is very irritating and many Windows users are suffering from this issue.
This issue appears while users tend to do any web/internet related task using the modem in bridge mode. The issue arises when users try to connect via PPPoE connections. This error is equal or similar to Error code 6978 on Windows XP.
In some situations, this might not be a solemn trouble but sometimes the modem or router hangs down and here the main problem arises as you can't use your internet connection via desktop Windows.
This issue may make you frustrated as they are apt to pop up after a fixed time of interval and ask for a solution. You can't solve this issue even after applying Windows diagnosis.
You may need not worry, just continue reading this blog and apply the below-stated solutions one after the other and get connected to the internet without the error 651.
What are the Causes of Error 651?
Below is the list of causes due to which the error 651 appears on the Windows operating system. Have a look at them and get to know about it.
Windows Registry Database Corruption
When a system file called raspppoe.sys gets misplaced or corrupt
IP Settings might be damaged or improper
Internet configuration is broken
Wrong Connection at broadband.
Disabled LAN card of the desktop
System driver is been damaged due to the virus attack on the system
Spyware may also interfere with the modem connection of the system.
Third-Party firewall application is blocking the connection.
Now, that you know the cause of this error 651 let's get rid of this error by applying the solutions and see which one solved your issue.
How Do I Fix Error 651 in Windows 10?
In order to solve the error 651 when trying to connect to internet, go through the solutions mentioned below and get connected to the internet without any hassle.
Solution 1- Power Cycle Modem and Router
In order to power cycle your Router, apply the below-given steps one by one.
First of all, shut down your computer and turn off Router, then turn down the modem
After it removes all the cable which are connected to computer, Modem or Router
At last, connect all of them and reboot your Windows computer
Solution 2- Repair Registry Database and Remove Junk Registry Keys
Generally, the main reason behind Error Code 651 is bad registry files, a damaged or corrupt registry keys may generate this issue. So in order to repair the damaged registry database, you need to remove the junk registry keys.
You can try CCleaner. This software is specially programmed to scan and remove damaged registry, system, dll files. This will also help you to deal with driver issues.
Get CCleaner to Remove Junk Files from Your PC
Solution 3- Repair and Update raspppoe.sys file
Another big reason behind this issue is a misplaced RAS PPPOE file, this is a system file present in Windows 7 driver. It is also known as the raspppoe.sys.
First, confirm that the original file is available in its actual location or make a backup of it for future use. If not found this file, then apply the below-given solution:
Download the raspppoe.sys file from online or you can also copy this file from any other healthy computer/laptop.
After it passed the file at a specific location, C:WindowsSystem32Drivers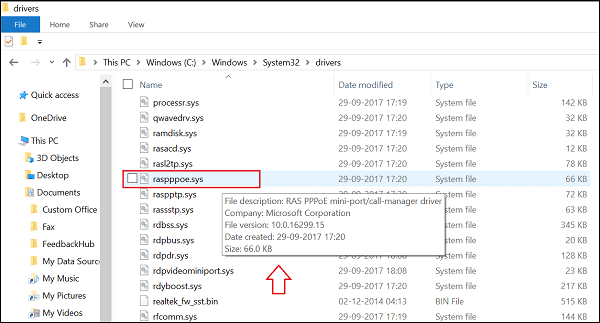 At last, try to connect your modem once again and it is hoped that it should work fine
After repairing and updating the raspppoe.sys file you can easily connect your modem or any other device without error 651 displaying on the screen.
Solution 4- Create a New PPP0E Connection
As I stated above that the problem is because of PPPoE connection which wasn't well configured. So, delete the old one and create a new connection can fix the error 651.
Here are the steps to do so:
Press Windows key
Type control panel
Click on Networks and Internet and choose view status and task
After it, choose "Set up a new connection or network"
Again choose "Connect to the Internet" and click on Next to create a new PPPoE connection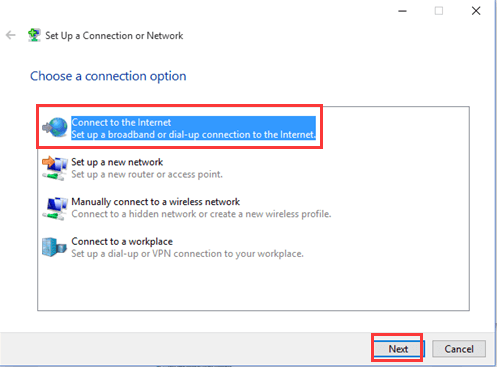 Click on the Broadband (PPPoE).
Enter any name for the connection, add username, password and IPS information and click on connect button
After all the steps are completed and the credentials are correct you can now easily connect to the internet without the error 651 to appear anymore.
Solution 5- Reinstall LAN Card Drivers
First, uninstall the LAN card driver on your desktop and then again reinstall a fresh one to fix the Error 651 on the modem connection.
This reinstallation method will surely help you to fix the Error 651 and make the modem connection work proficiently.
Solution 6- Disable IPV6 from Windows 7 and 8
Internet Protocol Version 6 (IPV6) is one of the important parts of Windows Internet and modem. Try to disable the IPV6, sometimes this can solve this problem.
Go to the Control Panel from Start menu
Click on "Network and Sharing Center"

Choose Properties and uncheck "Internet Protocol Version 6" (TCP/IPV6) option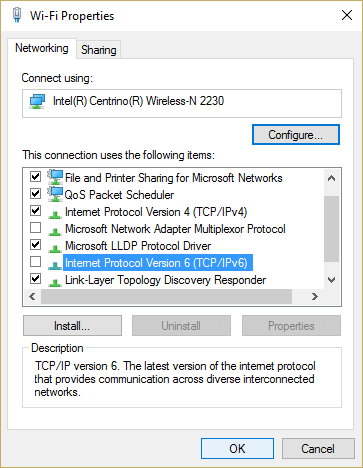 Now, that you have disabled the IPV6 from your Windows operating system, try connecting to the internet and see if the error 651 still persists or not.
Solution 7- Create New Dialer and Reboot ADSL modem router
This solution might be the tiniest way to solve Error Code 651. Create a new dialer and delete the older dialer. Remove your dialer in the first place and then create a new one.
After executing this process restart the ADSL modem router and connect your connection once again.
Solution 8- Reinstall/Update LAN Card Drivers
This is the final solution that will help you in fixing the error 651 Windows 10. With the help of Device manager install drivers for your internet adopter. Apply the below-given steps to reinstall the LAN Card driver.
Press the Windows icon
Type Control Panel and hit the enter key
Click on "Device Manager"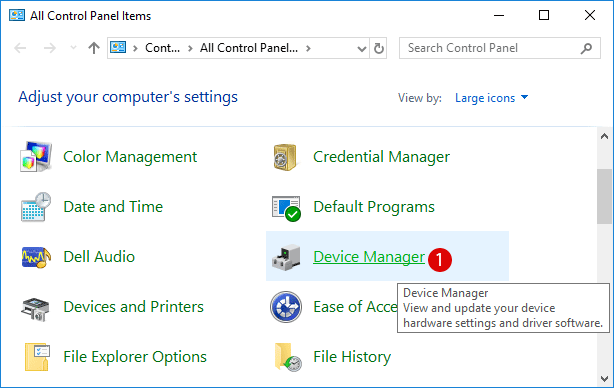 Search for Network adapter, right-click on it and choose properties
Select the network that needs to be updated, double-click to open it and then click on the Driver tab
Click on the Update Driver button.
You can also repair or update your system drivers with the help of Driver Easy. This tool will not only update the drivers but also repair driver-related issues, like Driver Errors, outdated system Driver automatically with ease.
Get Driver Easy to Update the Drivers Easily.
Recommended Solution- Fix various PC Errors and Issues
There are numerous Windows PC errors and issues that are very stubborn and cannot be solved manually, for that you can try the PC Repair Tool.
This advanced repair tool is designed by professionals which is easy to handle for every individual. This tool removes the errors from your PC such as DLL, browser, registry, BSOD, update, game error, repairs system files & many others in just a few clicks.
You just need to download the tool, it will scan your PC, detects the issue and solves them automatically and optimize the performance of PC like a new one.
Get PC Repair Tool to Fix Various Errors and Issues
Conclusion
Here I am concluding this blog by providing you with the solutions that will guide you to troubleshoot error 651 from your Windows operating system.
Perform the fixes one after the other and see which one suits in resolving the error 651 when trying to connect to internet. Apart from that you can scan your PC with the tool recommended to clean your system from errors.
I hope this article turns out to be useful in fixing your issues and other queries. If you have any questions or suggestions then feel free and write to us on our Facebook page.