For a portfolio to do an adequate job of showcasing your work, it has to cover lots of bases. As an example, the text must relate closely with the image its focus is on, and it has to attract visitor attention without taking the focus away from the image itself.
You need the right tools to make this happen. There are plenty of themes on the market that have the right tools when your goal is to create a decent portfolio website. On the other hand, if you want your portfolio website to serve as a truly valuable asset, "decent" just won't cut it.
What you want, is a stunning, awesome, or award-winning portfolio website. Creating one that meets such a high standard is well within your reach – but you have to pick a theme that can actually help you make that happen.
Like one of the following:
1. Be Theme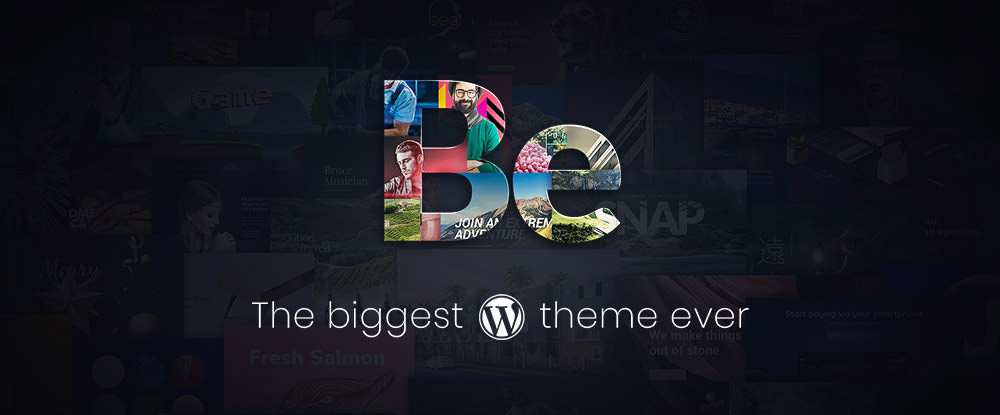 It has a library of 450+ customizable pre-built websites. It offers all the flexibility you need to build a top-quality portfolio website. And it's easy to use. It's also the biggest WordPress theme on the market and it's called Be Theme.
Be's professionally-designed prebuilt websites are but one of its many powerful core features that includes everything from its Muffin Builder editor, a shortcode generator and a large shortcode generator library, a brand-new Header Builder, and a wide selection of portfolio grids, layouts, and other useful portfolio-building features.
A subset of these customizable pre-built websites can serve as starting points for a portfolio website project. Of particular note is BeAgency, a one page pre-built website featuring a beautiful Ajax portfolio. BeAgency and has been a preferred choice of a variety of agencies looking for the best way to showcase their products.
Be offers an impressive collection of powerful website-building capabilities, and whether you're a pro or your proposed portfolio website is your first one, you'll like what this responsive, SEO-friendly WordPress theme offers, and you'll like its excellent customer support.
2. Kalium
An excellent choice for portfolio and blog websites as well as for online shops, Kalium gives its users a great selection of theme options, layout designs, and drag and drop content elements to work with to build a portfolio website that showcases your work for the world to see.
Select one or more of Kalium's demo sites to get your project started. Simply clone the content you want to work with using WPBakery, the world's top page builder and the 100+ shortcodes and a variety of bonus elements that also come with the package.
As for your portfolio; Kalium gives you 30+ different carefully-crafted portfolio item types in 7 main categories to work from. Each category has options for aligning images, controlling spacing, and incorporating textual information.
And, one thing more. Kalium is delightfully easy to use.
3. Uncode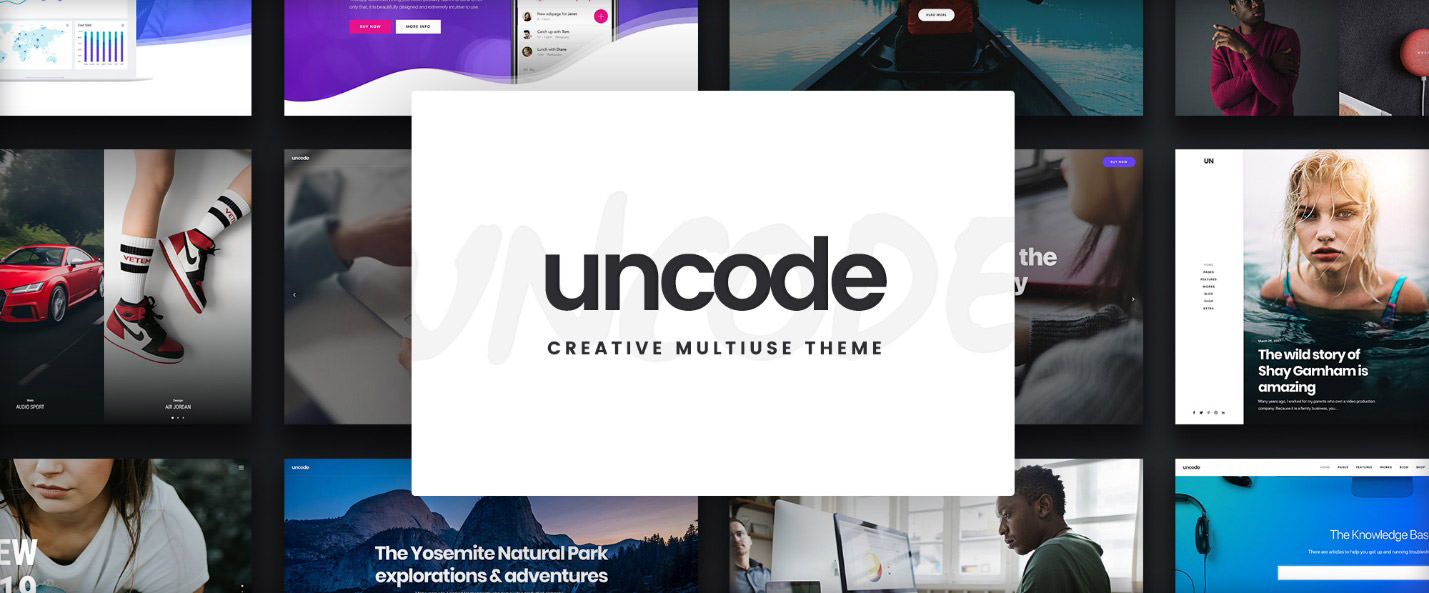 The fact that Uncode, with its 50,000 sales is one of ThemeForest's all-time best sellers is one good reason why this pixel-perfect theme could be a good choice for you. There are many more of course, and you could go through the entire list of Uncode's features to see what they are.
But if you really want to see what this creative multiuse theme could do to help you create an awesome portfolio website, you need to visit Uncode's website and browse the user-created website library.
You'll be impressed and inspired by what you see; whether your next project will be a portfolio website or another website type.
While building your portfolio website, you should find plenty of good use for this creative multiuse theme's advanced grid system and its adaptive images system and advanced Masonry/Isotope/Carousel features. Your portfolio will shine brightly on large screens and hand-held devices alike.
4. Bridge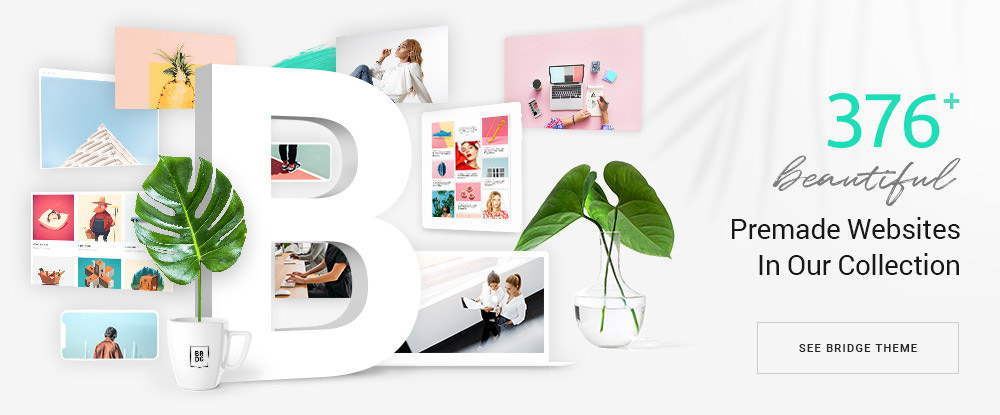 Bridge is perfect for just about any web designer. The fact it happens to be the best-selling creative theme on ThemeForest points that out. Bridge is ideal for all types of websites, and that includes portfolio websites.
Developed by Qode Interactive, Bridge features open-ended customizability, a variety of portfolio building options, and gives its 110,000 happy users 5-star support.
5. The Gem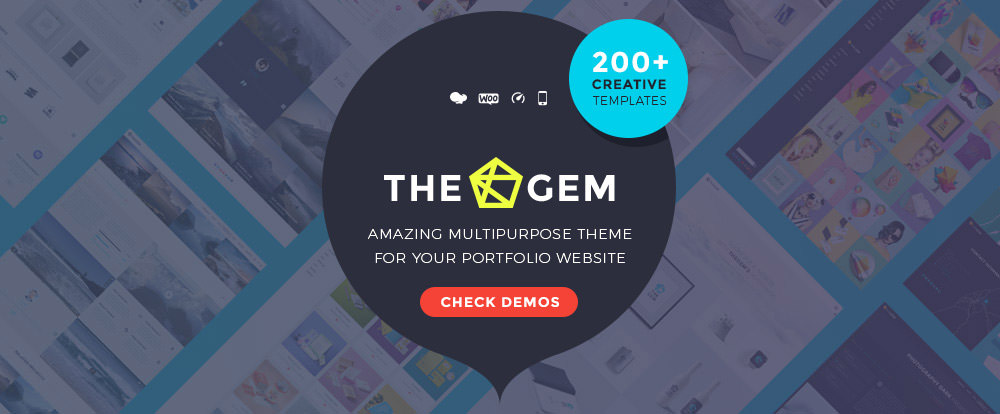 TheGem has been called the ultimate WordPress toolbox with respect to its features and capabilities, which include unlimited portfolio website-building options. TheGem gives you 20+ flexible portfolio layouts to work with together with a flexible grid system and a host of column, gap width, loading, and pagination options along with animation and hover effects.
TheGem is designed to significantly expand your portfolio design and build options.
6. Hello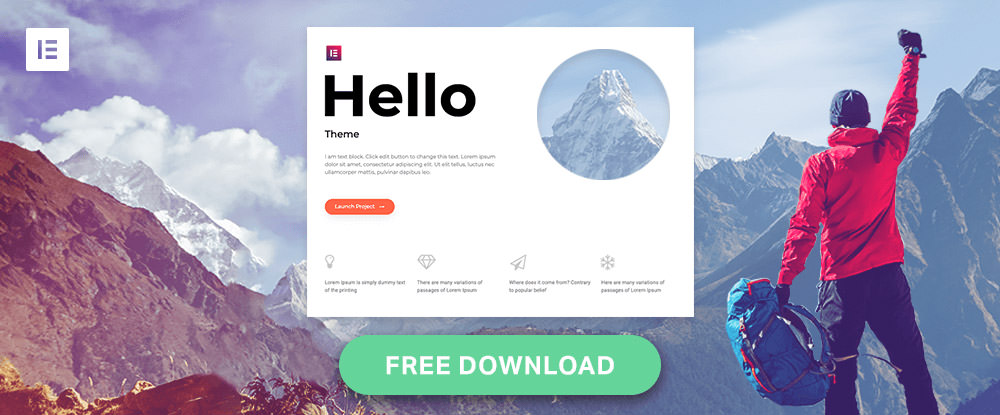 Hello is a lightning-fast, friendly, and free theme that won't slow you down. It also happens to be the ideal WordPress theme for Elementor. It's such a good fit that whenever Elementor is updated the majority of the testing is done on Hello.
This open source theme supports all of the most widely used and popular WordPress plugins. It's literally a theme without boundaries.
7. Movedo WP Theme
MOVEDO is a creative multipurpose WordPress theme featuring a clean, modern design, high quality code, amazing flexibility, and 24/7 support. Some of its seldom seen elsewhere features are truly amazing. You'll be able to accomplish the seemingly impossible with MOVEDO's super-crispy moldable typography and ultra-dynamics parallax effects.
Whether your project involves a general or specific-purpose (e.g., portfolio) website, MOVEDO adjusts to your creativity.
8. Pofo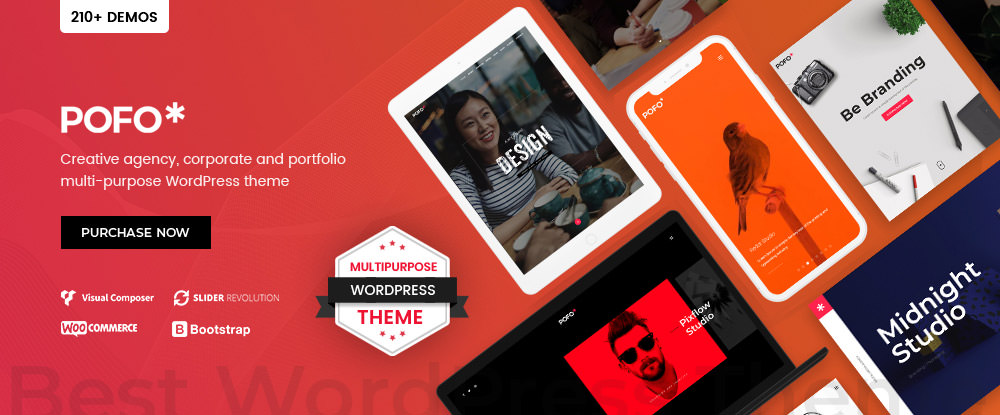 With more than 150 pre-built elements, 200+ demo pages, and 25 home pages, Pofo is well equipped to meet the challenges any website type could throw at you, but where this blazing fast, highly-flexible multipurpose WordPress theme really shines is in the portfolio, blog, eCommerce arena.
Pofo is an ideal choice for creating a stunning portfolio website; and if you want to add blogging and/or eCommerce capabilities to your website, so much the better.
Conclusion
When you're faced with several hundred multipurpose themes, many of which appear to have what you need to create a decent portfolio website, searching to find a perfect match, or even a good one, can be a headache. You might have to resort to trial and error in hopes of finding one that will serve you best.
It's much easier if you have only 8 to choose from. It can still be a challenge because one may seem better in some ways than the next; but you're actually faced with a can't lose proposition. Pick one that you feel will get the job done, and you won't be disappointed.