Every web designer knows there's always room for improvement, and any of the WordPress tools and services described in this article could easily take your business to the next level.
There's no shortage of tools and services that make that claim. Some are better than others of course, and some are far better than others. To find those that are "far better" which is what you'd really want to be doing, is simply a matter of sifting through the roughly 55,000 WordPress tools and services currently on the market, checking likely candidates, and zeroing in on those that appear to be most promising.
That's not a bad approach if you have a few weeks of spare time on your hands, but we've already done the heavy lifting, and we want to share with you our expert picks of must-have WordPress tools and services for 2019.
1. Elementor
Elementor is a powerful page builder with advanced capabilities that enables you to create the perfect website to convey your message without having to code. You can choose from 100+ templates to work with or start pages from scratch. Either way, using Elementor will improve your workflow and increase your productivity by letting you design and build your websites quicker and better.
With Elementor, you get a website builder that's already trusted by top professionals with more than 2 million active installs. The drag and drop editor is quick and powerful, and packed with super-useful widgets you can use to quickly create your site layouts.
Since you can use any theme or any plugin with Elementor, you'll benefit by having complete design freedom, no matter what other theme or plugin you chose.
Looking further into Elementor, you'll discover one cool feature after another; popups, advanced forms, and hover and scroll animations being a few of them.
2. Brizy WordPress Website Builder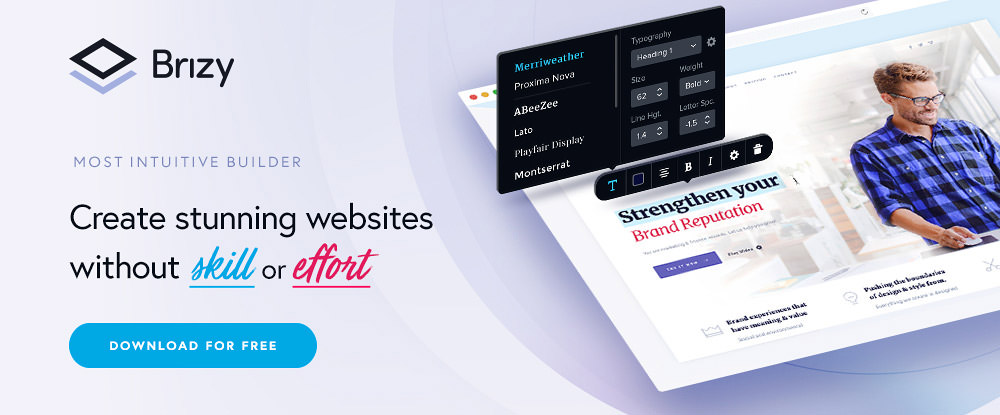 Web designers are anything but lazy, but they won't object to working with a website-building tool that's almost ridiculously easy to use and doesn't require coding or any special technical skills.
Brizy is such a tool. For starters, you get 240 blocks, 150 layouts, and 16 popups out of the box, all of which are ready-made and professionally designed. The pre-made blocks give you a good starting point if you find starting a design from scratch is a bit too intimidating. Figuring out a page's structure is no problem at all and when you have your content on hand you can literally build a page in mere minutes.
4,000 icons come with the package, you can easily change colors or fonts on a page or across all pages, and you can save your customized blocks for future use.
Brizy is free to download and you can create your first website at no cost.
3. WordPress Site Care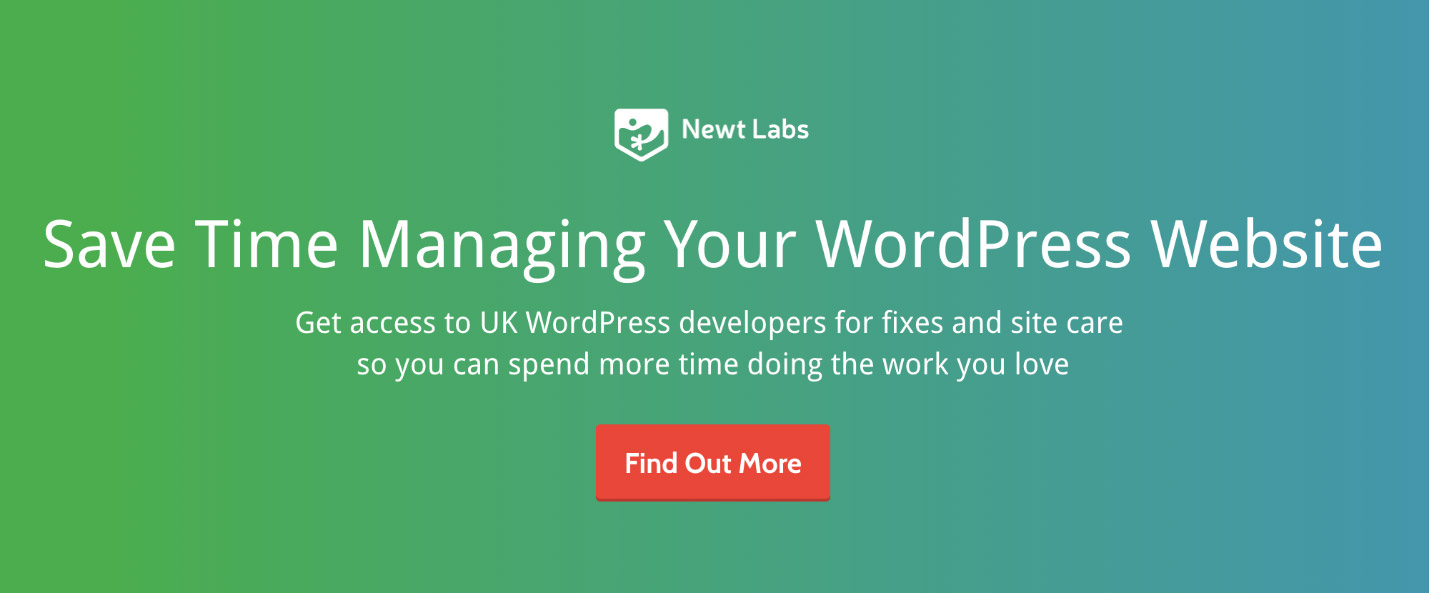 Newt Labs' goal is to make your website management painless and allow you to focus on your main project tasks, please your clients, and grow your business.
The Newt Labs team will help you with small fixes to your site, give you unlimited assistance and advice, and take care of all WordPress updates including the core, theme, and plugins, security monitoring, and other day-to-day management tasks. They will back up your WordPress site daily and store the backup off-site. Since their cloud hosting is optimized for WordPress you can speed up your website by upgrading to a proper hosting service.
Newt Labs will also monitor your website, checking against blacklists to keep your brand's reputation intact.
As a part of their maintenance service, Newt Labs provides access to the latest WordPress and WooCommerce video tutorials directly in your sites dashboard to empower you to get the most from your website and its content.
4. Goodie
Goodie joins end-clients directly with a web developer. Only experienced developers are hired, and they are assigned to work directly with you. There are no middlemen. Simple upload your design, whether it is extensively detailed or barely beyond the concept stage and Goodie will carefully code it for a special price of $999.
Goodie's service is ideal for small or local business owners, web designers, and for coding websites in the 1-10 page range and simple WordPress sites.
5. WordLift
The WordLift plugin is a semantic platform that utilizes AI for SEO and partners with WooRank to measure the performance of content over Google in terms of factors that influence organic traffic; search rankings for example.
WordLift also translates content into knowledge graphs and machine-readable content that help search engines understand what your content is really about and at the same time improve user engagement.
Tips to Make Your WordPress Site Secure
Choose a Good Hosting Company
Site performance and site security are the issues here, and you can expect to get what you pay for. If you go with a cheap hosting provider, you're putting your site and perhaps your business at risk.
You won't have to experience losing your data once, which is one time too many if you choose a hosting service that treats your site as if it's their own.
Install a WordPress Security Plugin
Either you rarely if ever check your site security for malware, check it occasionally, or you automate the process and let a plugin do the work. The third option obviously makes the most sense. The right plugin can monitor your site 24/7 to keep tabs on what's happening.
Update WordPress regularly
By releasing new upgrades on a consistent basis, WordPress is continually being improved in terms of performance and security. When a malicious bug is discovered, it's promptly taken care of when an update is released. If you don't update, that malicious bug can still cause mischief.
Make it a habit to periodically visit the WordPress dashboard, check for new updates, and hit the "Update Now" button if you see one.
Back up your site regularly
All that's involved is to create a copy of your site and store it somewhere safe. Do so periodically, whether its daily or monthly. Some hosting sites perform daily backups.
Conclusion
This article covers 5 must-have WordPress tools and services you can use to build better websites and 5 valuable tips you'll want to follow to keep them up and running; although one of the services listed will do that for you.
If you're looking for a faster, easier, and more efficient website builder either Elementor or Brizy will be ideal. If SEO gives you headaches give WordLift a try or checkout Goodie for your development needs. And, if you'd like to hand over site maintenance to someone else so you can focus on website building, Newt Labs is there to help.