Booking and managing appointments is the lifeblood of businesses that serve large numbers of clients, businesses like healthcare and fitness clubs, beauty salons, and even consulting firms.
A booking that falls through the cracks is certain to create some ill will. If it happens a second time, it could result in the loss of a client and/or a less than glowing review.
Bookings problems and mistakes can be avoided by making the process error-free, more reliable, and simplified.
Isn't that easier said than done? Not really.
Amelia is a WordPress booking plugin that gives you the error-free, reliable, simplified solution you need; even while you sleep. This all-embracing software booking solution supports:
Multiple employees and clients, irrespective of their work days, days off, and working hours.
Multiple services and service types.
A single or multiple business locations.
Graphical depictions of a business's key performance indicators.
And more (see the feature list).
Presenting Amelia, the Automated WordPress Booking Plugin
Amelia's users will tell you that it was about time that a booking management tool like this one made its appearance; a tool that would make and manage your business's appointments 24/7, without fail. Want to see how it works? Here's a client view of the plugin in action.
Not only can this WordPress booking plugin do all these good things for you, it requires no technical expertise whatsoever to install, set up, and put to use. Check out the back-end demo and see for yourself.
Since Amelia is 100% automated, you don't have to worry about making and managing your bookings yourself or hire someone to do it for you. Your clients do so themselves, and at any hour of the day or night. All you have to do is to view the appointments that have been made, set your calendar, and check with your business team; all from a single platform.
Here's a quick video presentation of the appointment booking plugin:
You can do away with the sticky notes, the hastily-scribble whiteboard messages (which have a tendency to get erased), and having to smooth over meeting attendance goofs once you put this flawlessly-performing booking management system on autopilot.
You can even take credit for running such a smooth booking system because of Amelia's intuitive interface and the cool user experience it offers. Amelia won't mind if you do, although a 5-star review on your part will always be appreciated.
Amelia's Top Benefits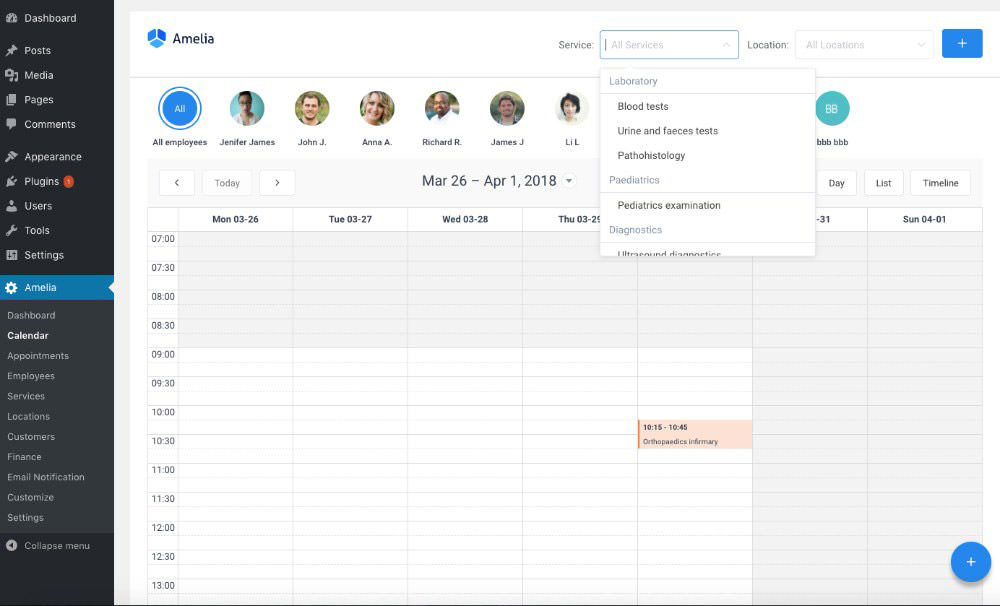 You'll pay a one-time, highly-affordable, fee. That's certainly better than hiring a salaried or hourly employee, assigning someone to manage your bookings on a part-time basis. Because Amelia's fee is so low, your ROI is almost instantaneous. You'll be saving money instead of spending it.
You can devote the time saved to better serving your clients. Or, you might spend the time Amelia is saving you looking for other ways that might benefit your business. All your clients know is their requests for bookings and appointments have been professionally addressed and taken care of.
You'll look more professional. Clients appreciate it when booking an appointment is quick, smooth, and hassle-free, and it makes your business operation look modern, efficient and professionally run.
You'll be better organized and in control. It's much easier to keep well-organized and under control when everything you need is in one place and readily available. Looking for scraps of paper that gives the time and place for an appointment or a sticky note that somehow came unstuck will be history once Amelia is in charge.
Once your appointments are being managed automatically, you'll have full control over them, which places you in a better position to optimize both your workflow and your money flow.
Amelia's Top Features
These top features have something in common. Each one is designed to make your work easier by simplifying what could easily become a complicated, cumbersome, and error-prone process. You'll also appreciate being able to select colors and fonts to make Amelia's UI match the theme and style of your brand.
Search Wizard: This WordPress appointment plugin feature lets you view appointments by service, employee, or time; and you can use these same criteria when scheduling appointments.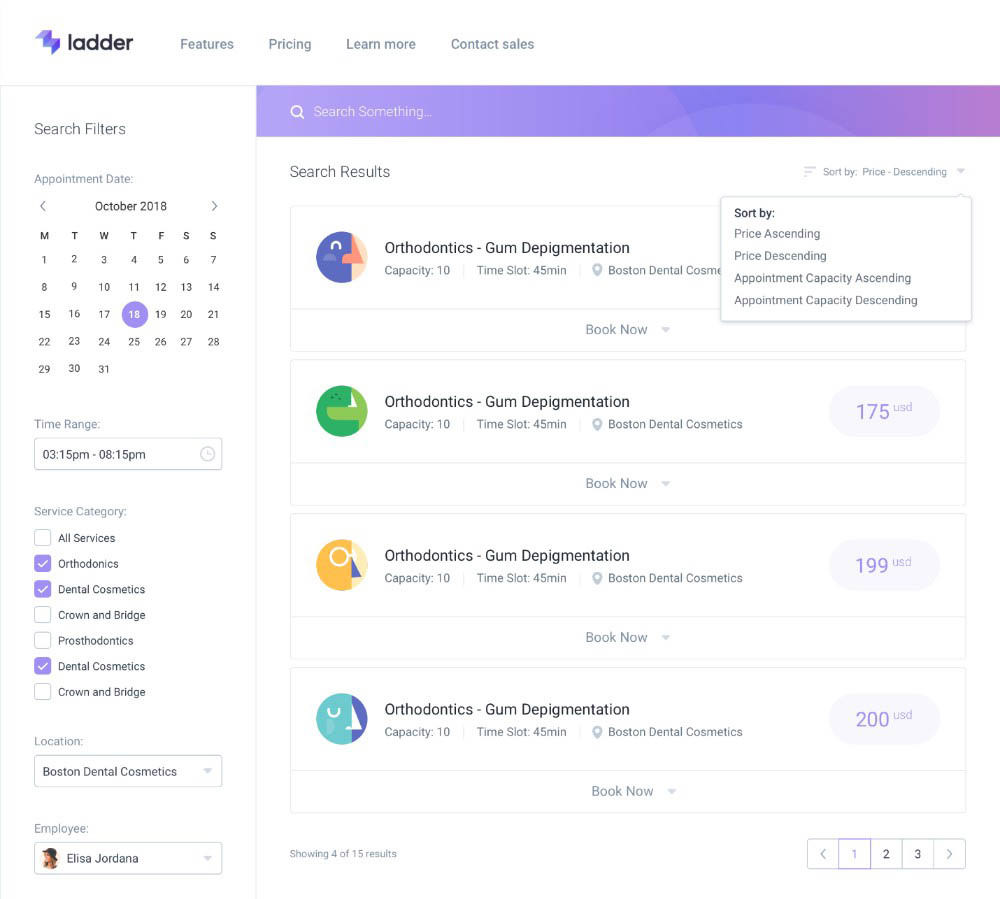 Tracking and Reporting: You can track and view your businesses key financial and conversion-related KPIs on the dashboard and select among multiple workflow-management options from this WordPress scheduling plugin's calendar or list views.
Catalog View: This useful feature allows you to generate a catalog of your services or offers together with your booking form by using a shortcode and filling in the necessary text and images.
Employee Management: With this WordPress scheduling plugin's feature, you can store pertinent employee contact, schedule, and performance information in the WordPress database, and manage and configure personnel work schedules. This can be done for multiple locations.
Bookings for Group Appointments: Amelia supports group bookings including group capacity information and sends appointment, follow-up appointment, and special events notifications by email.
Payments: Amelia integrates payments to your business through two popular online systems; PayPal and Stripe.
Recently Added WordPress Booking Plugin Features
Putting one or more of these newly-added features in play can yield a huge ROI with respect to the time you'll save, the mistakes you'll avoid, and increased client and customer satisfaction.
2-way Google Calendar Synchronization allows to sync appointments in Amelia and employees' Google calendars. A certain time slot won't be available for booking in Amelia if the employee has some event created for that time in Google Calendar, and when an appointment is created in Amelia it will automatically appear in employee's Google Calendar.
A next-day appointment reminder for employees.
When there is no price for a service, the price calculation is hidden.
Employee selection hidden in the frontend booking process if there's only one employee registered.
Employees can edit their personal details and configure their own working hours, days off and breaks if the administrator enables this feature.
WooCommerce integration. This means that you can manage your orders through any WooCommerce payment provider.
Why You Should Try Amelia Now
If you're serious about giving your business a more professional look, you can start by putting flawless processes in place, and letting Amelia automate your appointment booking system would be an excellent starting point.
This WordPress appointment plugin provides a service you don't want to be without, especially when you're operating a client-oriented business, and it's imperative that booking activities are always fully under control.
Amelia is simple to install and intuitive to use as well. It features a virtually flat learning curve and it can easily be customized to fit your business model. Try it today and see for yourself.