How many web designers have dismissed everything they've heard about multipurpose themes? They did so under the assumption that a multipurpose theme is like the proverbial Jack of all Trades. It may be able to do anything you ask of it, but none of it never well.
That assumption may or may not have been true when multipurpose themes first came on the scene. We really don't know. But it's certainly a false assumption today.
There are situations where a specialized theme may serve you better. But in most cases, a multipurpose theme will not only get the job done but absolutely nail it.
Select one of the themes presented here for your next project and what do you think will happen?
It will absolutely nail it.
These 12 multipurpose website-building solutions are not only that good. They're the best.
1. Be Theme
Every multipurpose theme has its own set of special features and tools that enables it to successfully take on virtually any website-building project a web designer puts it to use. Be Theme has them in spades. With 40+ powerful core features including the newly-minted Header Builder this, the biggest WordPress theme ever, also boasts an outstanding collection of over 400 pre-build websites.
These pre-built websites cover more than 30 different business and industry sectors and niches together with every website type and style you're apt to encounter. They're responsive, customizable, and include functional design elements that guarantee the finished product will feature a UX that will engage users and successfully guide them to the website owner's goal.
Other notable core features include the Muffin Builder/Editor, and advanced options panel, shortcode generator, layout generator, and a host of design elements, options, fonts, and special effects.
Select a pre-built website (you can upload it with a single click), start customizing, add your own content, and you can create a ready-to-go website in as little as 4 hours.
2. Jupiter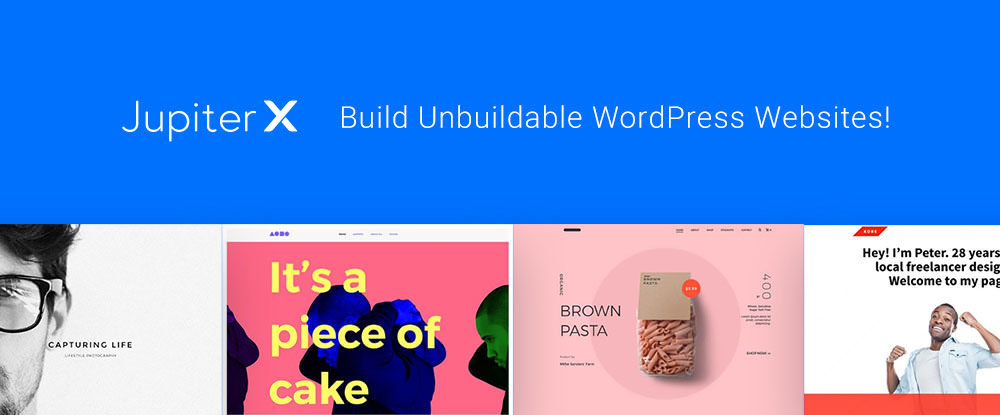 Jupiter X is another multipurpose theme that can handle virtually anything you can throw at it. Go down its list of website-building features, and you'll likely agree that the claim that Jupiter X enables you to build the unbuildable has merit.
You won't have to worry about working around header and footer-building limitations common to most themes. You can build your own. You'll also be able to customize online shop features like carts and checkout pages that many themes don't allow you to do.
Creating customized popups, special forms, and out-of-the-ordinary menu styles will never be a problem either.
It should not come as a surprise to anyone that this scalable, developer-friendly theme is attracting so many new fans. Jupiter X is a total makeover of Jupiter, a creation of a member of the Power Elite Envato Hall of Fame, Artbees.
3. Uncode — Creative Multiuse WordPress Theme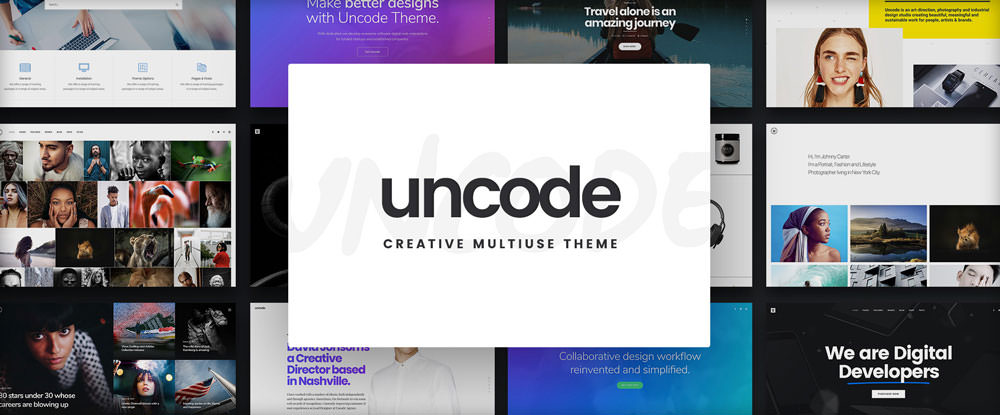 Uncode owes it exceptional flexibility in large part to an adaptive grid system that's by far the most advanced system of its type. This creative theme, one of ThemeForest's all-time bestsellers, also features an impressive adaptive images system that detects a visitor's screen size and rescales your images accordingly.
There are 200+ option-rich design modules to work with plus 28 powerful Visual Composer modules. Its hierarchical theme options feature gives you incredible control over your layout and content, a feature you'll genuinely appreciate whenever you're tasked with creating a portfolio that's a cut above average.
Rather than go down the full list of features, we suggest you visit the Uncode site and browse its showcase of user-build websites. You'll definitely be impressed to see what others have been able to accomplish using Uncode, and most probably inspired as well.
4. Kalium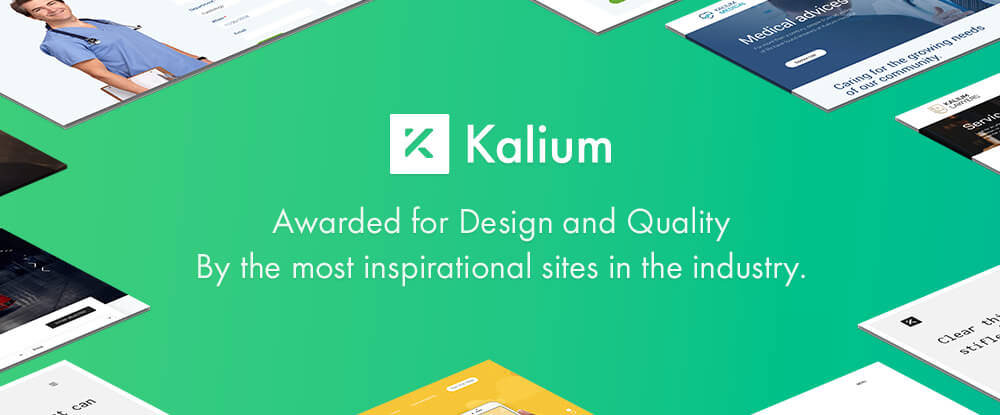 This remarkably easy to use multipurpose theme sports an outstanding selection of theme options, layout designs, high-quality full-content design demos. Coupled with its drag and drop page building feature, Kalium gives you the flexibility you need to be able to create websites of any type or style.
You'll get periodic updates for the life of the product, and you can rely on top-notch customer support as well.
5. TheGem — Creative Multi-Purpose High-Performance WordPress Theme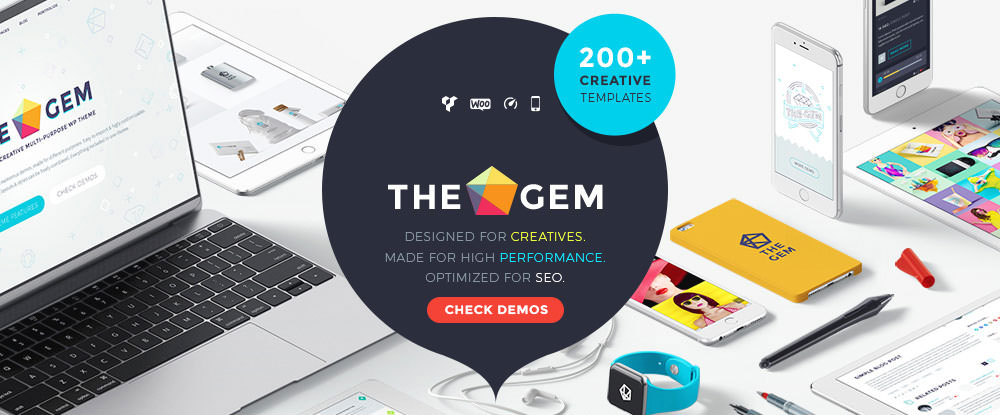 A very large Swiss Army knife may or may not have been on TheGem's authors mind when they created it, but they certainly came up with a software equivalent — a multipurpose theme that many look upon as the ultimate in website-building toolboxes.
Its 150+ demo pages, 50 and counting multipurpose design concepts and flexible page layouts help you get any project for any startup, business niche, or creative agency, off to a quick start.
6. Brook — Creative Multipurpose WordPress Theme
Any listing of Brook's features in so tight a space is going to miss out of everything this best-selling multipurpose creative theme can offer. The best approach is to visit Brook's website and see for yourself.
Remarkably worth mentioning here is the bunch of premium plugins namely WPBakery Page Builder, Revolution Slider, Font Awesome 5 Pro, the excellent collection of homepage, blog, portfolio layouts, hundreds of custom shortcodes, mega menu, parallax scrolling, and so on.
7. KLEO — Pro Community Focused, Multi-Purpose BuddyPress Theme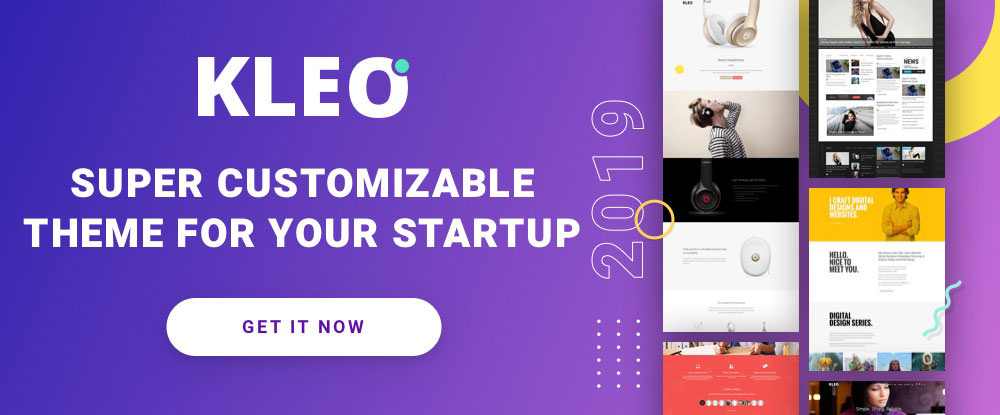 This community-focused multipurpose theme lets you put a working site in place in minutes. Easy setup, drag and drop page building, and a 1-click demo import are part of the reason. Another part of the reason could be that Kleo is a plugin's best friend.
If you have a special plugin or two that you need to get the job done, you won't have to worry about whether it's compatible with Kleo. Unlimited possibilities await.
8. Bridge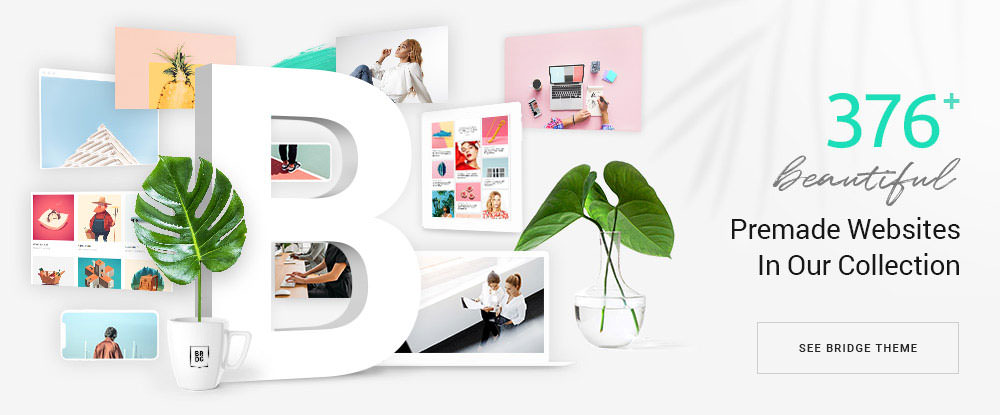 Bridge is an ideal choice for creating a website for any business niche. It's more than 110,000 happy customers will attest to that.
The WP Bakery page builder, Revolution Slider, Layer slider and other plugins in combination with Bridge's open-ended customizability and its library of 370+ pre-made websites will get your project off to a fast start and take you anywhere you want to go.
9. Pofo — Creative Portfolio, Blog and eCommerce WordPress Theme
If you're looking for a modern, crazy-fast, and SEO optimized theme for your creative agency or business website endeavors you should consider giving Pofo more than a casual glance.
Pofo's great selection of 1-click demo pages, ready-to-go home pages, and 150+ pre-built design elements will give you all the flexibility and customization options you're ever likely to need — whether its for a blog, portfolio, or an eCommerce application.
10. Crocal — Premium WordPress Theme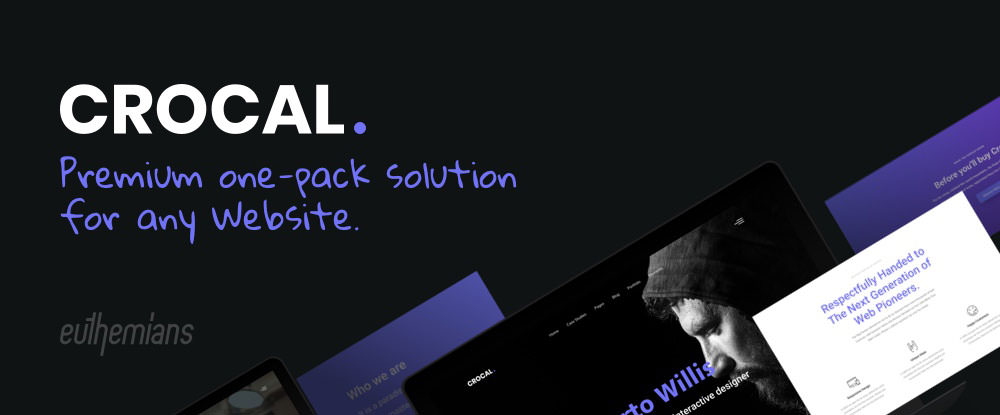 Crocal is brand-spankin' new; and like any new kid on the block it's eager to show its stuff. Crocal was created by a #1-rated ThemeForest author, which should tell you a lot about it.
This new multipurpose theme features an advanced grid system (i.e.,it's extremely flexible), its Gutenberg optimized, fully compatible with the latest version of WordPress, and GDPR requirements compliant.
11. Schema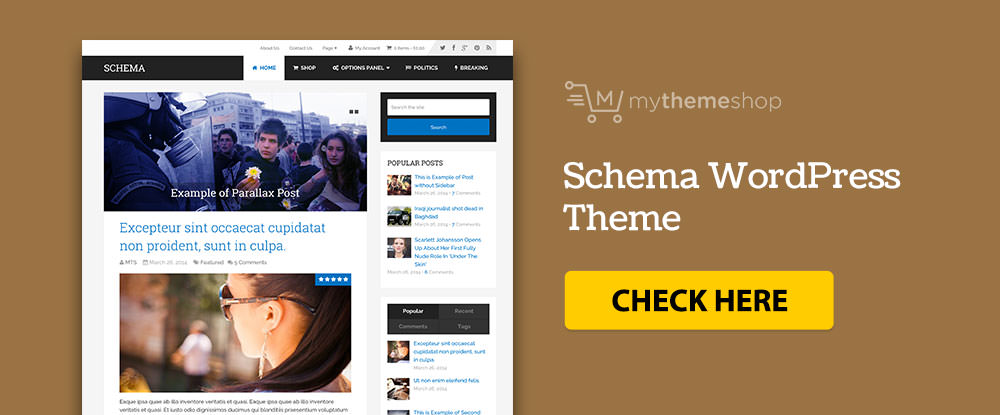 If your website creations are stunning but don't seem to get much traffic, Schema will solve the problem. Not only is it an outstanding website-building theme, But Schema will also guide search engines through your site, element by element, it will load your website fast, and it will add clean code to your website.
12. Movedo — We DO MOVE Your World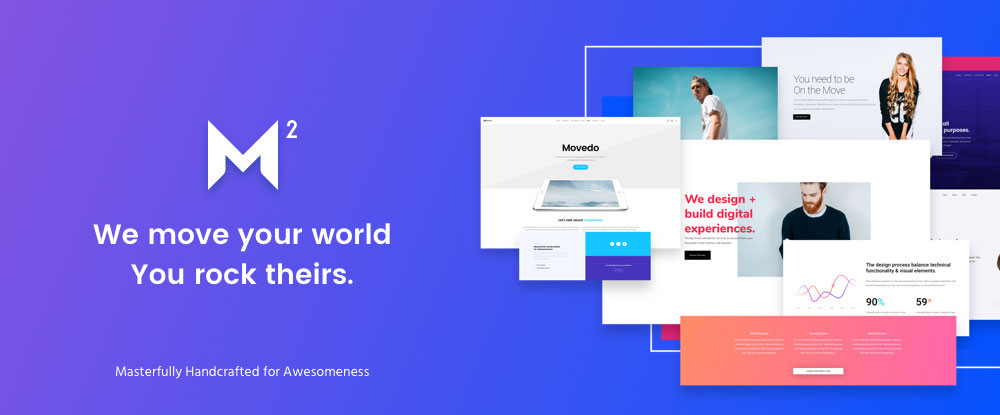 You won't find a magic want in any multipurpose themes. You won't find one in MOVEDO either, although you might think there's one hidden in there somewhere.
This top-rated theme's ultra-dynamic parallax effects, unique animations, and ability to make things appear to move that actually don't, might be just what you need to give your websites that extra dose of spark and pizzazz.
Conclusion
We've tried to make your search for a better multipurpose WordPress builder a little easier. Enjoy this selection of the best of the best. You're not quite done yet, however. You still need to find which one suits your needs best, and that can take a little extra time.
Don't worry too much about getting hung up on making a decision. You really can't make a wrong one in this group.