Keeping your Windows updated is very important for your computer's performance. But sometimes it becomes very hectic and irritating, as you start encountering Windows update errors while updating Windows 10 and 7 OS.
Speaking of update errors, the error 8024402C is one of the most common Windows update errors encountered by the users while updating their PC/laptop with the latest update.
You may receive different error messages while updating your Windows, such as:
Windows could not search for new updates

An error occurred while checking for new updates for your computer.

Error found: Code 8024402C Windows Update encountered an unknown error.
If you are also receiving this Windows update error 8024402C, then don't worry!! In this article, I am sharing some of the best possible solutions that will help you to fix error code 8024402C.
All you have to do is follow the given methods carefully. But first, let's know why you get this Windows update error 8024402C.
Factors Causing Windows Update Error Code 8024402C
The main reason behind this update error is that there are some programs that prevent your PC to connect with Microsoft's Update server.
Apart from the reason mentioned above, there can be some other reasons also, that cause this update error code 8024402C:
Bad DNS server – Sometimes your IP address doesn't allow your PC to connect with Microsoft Server
Incorrect Firewall or Antivirus Settings
Slow Internet connection
Incorrect proxy settings
PC is unable to access WSUS Server
How Do I Fix Windows Update Error 8024402C?
Follow all the methods given below to fix your Windows update error 8024402C and then you will be able to proceed with the Windows updating process without this error.
Method 1: Change Your DNS Server
Sometimes your Internet Service Provider can be the reason for this Update error code 8024402C. In this case, your DNS server could not be compatible with Microsoft update servers and it does not allow connection between Microsoft server and your PC.
In order to fix this error code 8024402C, you can change the DNS address manually and continue your Windows update process without any error.
To do this, follow the instruction given below:
Search "Control Panel" on your Desktop's search bar, and then select it.
Go to "Network and Internet"
Click on Network and Sharing Center
Click on Change adapter settings
Right-click on your connection then select Properties.
Now select Internet Protocol Version 4(TCP/IPv4)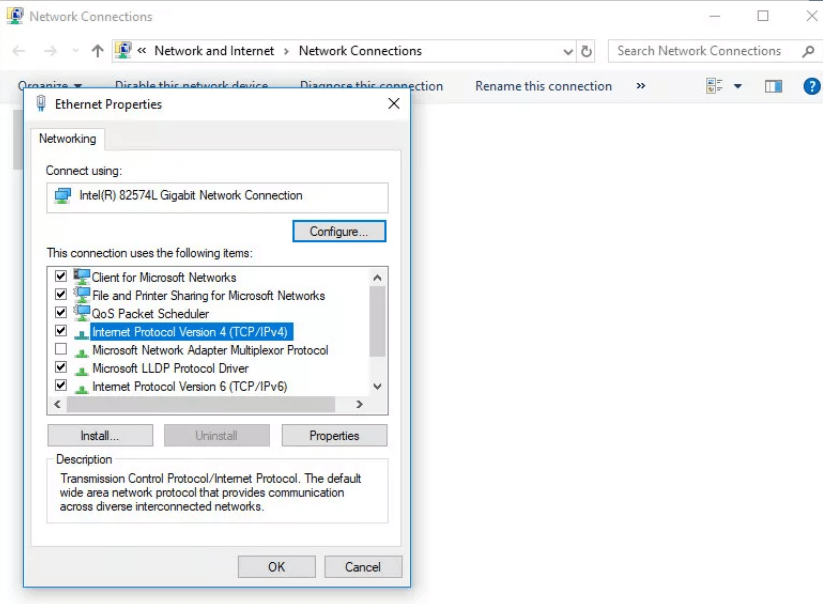 Go to Properties
Select the option – Use the following DNS server addresses
Now enter the new DNS server. Enter these best DNS server options:
Preferred DNS server: 8.8.8.8
Alternate DNS server: 8.8.4.4
Click on OK
Now try again to install the Windows updates and check whether you still encounter the Windows Update error 8024402C or not.
Method 2: Check Your Firewall or Antivirus Settings
Some Antivirus or Firewall settings may cause this update error code 8024402C in Windows. To fix this Windows update error you first need to disable firewall and then proceed to further Windows updating processes.
To disable firewall you need to follow the steps given below:
Search "Security and Maintenance" in the search bar on Desktop and click on it
Go to Security. If the firewall and antivirus are enabled then you need to turn-off them.
Go to Change Security and Maintenance settings
Now uncheck the Network firewall and Virus protection option to disable them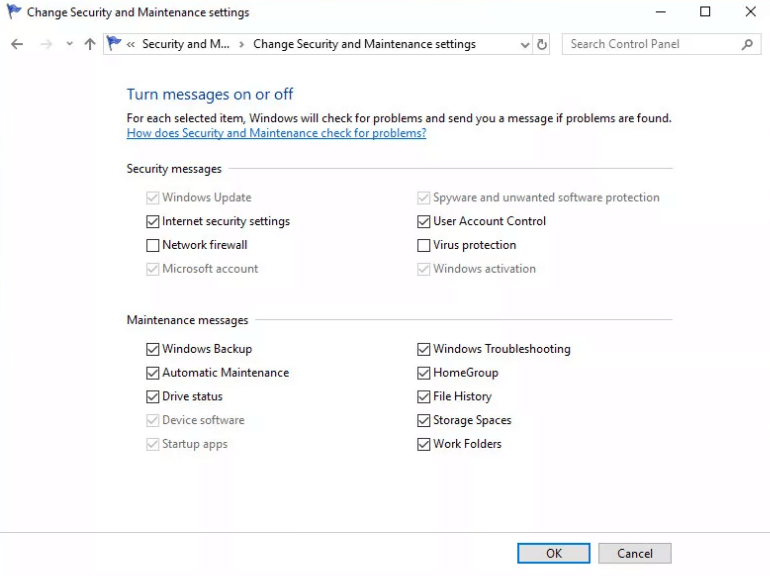 Now you can update the Windows and after the completion of the process, you can turn on the Network Firewall and Virus protection.
Method 3: Run Windows Update Troubleshooter
To fix this update error you can use Windows update troubleshooter. Microsoft provides this update troubleshooter to solve the update errors. To use this troubleshooter first you need to download and install it.
Now follow the below steps to run the troubleshooter:
Click on Windows icon
Click on Settings
Go to Update & Security
Go to Troubleshoot
Select the Windows Update
Select the Run the Troubleshooter
It will take some time for the troubleshooter to detect the problem
If there is any problem then you can follow the instructions given by the troubleshooter and if not then click on the view detailed information to see the report.
Method 4: Reset the Incorrect Proxy Settings
Corrupted proxy settings can also be a reason for this update error code 8024402C in Windows. To solve this problem you just need to reset the proxy settings.
Follow the steps to reset the proxy settings:
Press Windows key + X key together
Select the option – Command Prompt (Admin)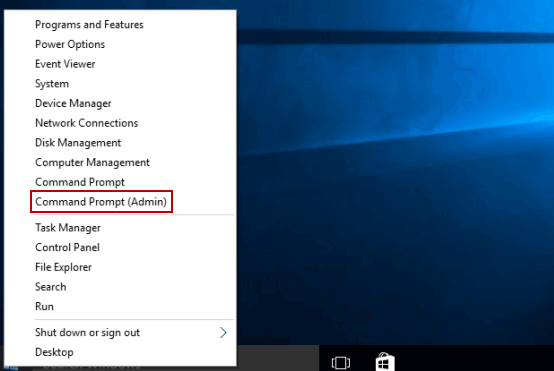 Now enter the commands written below, to execute this you need to press enter after each command
netsh

winhttp

reset proxy
Method 5: Use Regedit to Fix Update Error
By editing the registry you can fix update error 8024402C. But editing the registry can be quite tricky and problematic for non-techie people and if it is done in the wrong way it can also harm your PC, so for them, there is a Registry Repair Tool, it will make your work easy.
Before editing the registry you need to close all running programs on our computer and it's recommended to create the backup of the registry or you can also do Incremental Backup of Windows.
.Follow the steps to edit your registry:
Press Windows key + R key together to open Run dialogue box.
Type regedit and click on the Ok button to open registry editor
Find the path given below:
HKEY_LOCAL_MACHINESOFTWAREPoliciesMicrosoftWindowsWindowsUpdateAU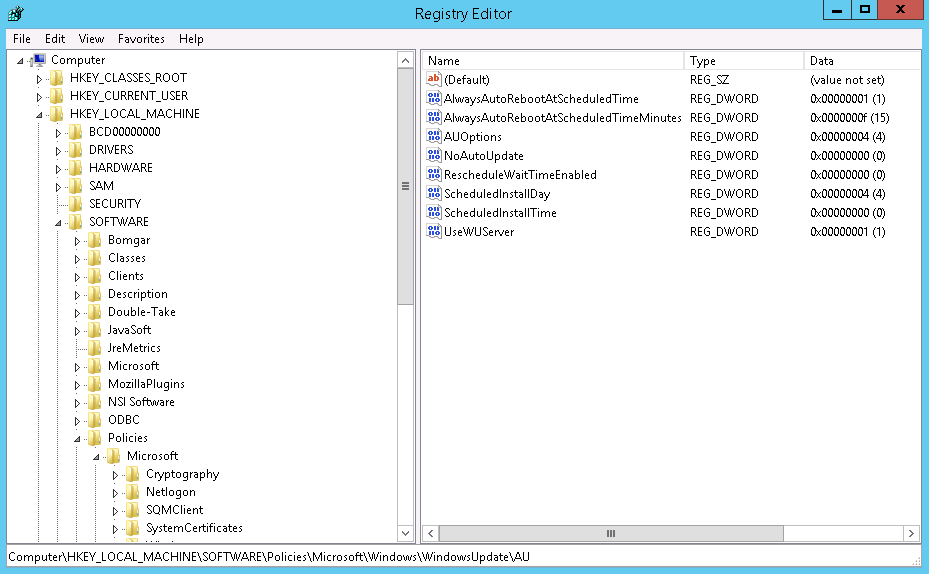 Double click on UseWUServer, now set the value of the UseWUServer from 1 to 0 and then click on Ok.
Restart your Windows update service. To restart Windows update service follow these steps:
Open Run dialogue box by pressing Windows key + R key together
Type services.msc
Find the Windows Update service
Click on restart
Now you can proceed with the Windows update process.
Method 6: Check Your Internet Connection
Sometimes slow internet connection can also cause this Windows error code 8024402C. To fix this error you need to check your internet connection. Make sure your internet connection is enabled and then try again to update your Windows.
Best & Easy Way to Fix Windows Update Error 8024402C
All the solutions mentioned above can be quite difficult for non-techie people, so for those people here is an easy solution to fix this error.
You must try the PC Repair Tool. This is a repair tool with advance features that will scan your computer, detect and fix all the errors such as BSOD, DLL, registry, game, update, etc. and also repair damaged, corrupted system files.
It optimizes your PC/Laptop, improves your PC's performance and makes it run as smoother as before.
Get PC Repair Tool to Fix Windows Update Error 8024402C
Conclusion
All of the solutions I have mentioned above will help you to fix Windows update error 8024402C.
These methods will remove the update error code 8024402C from your PC/laptop and will make you able to update your Windows easily.
I hope that you found this article helpful and now you are able to update your Windows without encountering the error code 8024402C.