Does your Pendrive data after getting connecting with the PC/Laptop transformed into an icon like this
? Well, dear, it's a sign that your Pendrive is hijacked with shortcut virus.
I know, how annoying this situation is, where you can't access any of your files showing in Pendrive. But don't worry you can regain access to your data again.
However, in this article, we have discussed some best tricks to remove shortcut virus from Pendrive without losing any data.
So, perform any of these methods to remove viruses from Pendrive permanently.
Before directly jumping into the fixes section. Let's take a quick glance over what this shortcut virus is and how it works.
What Is A Shortcut Virus?
Shortcut virus is a malicious program which changes all your files and folder into shortcut icon, hiding the original copy of your data.
Shortcut virus is very much similar to virus programs as it hibernates autorun.inf worm on your PC. Doing this will help them perform the automatic running of their malicious file in the background. Ultimately, all the existing files on your infected device will very soon get inaccessible, encrypted, and hidden into a shortcut with .lnk extension.
How Does A Shortcut Virus Work?   
For a clear understanding of the shortcut virus, first, you have to know about Autorun.
Windows introduces a file called autorun.inf when any external devices like USB, CDs, DVDs, memory cards, SD cards, etc. are connected with the PC. Basically, such AutoRun features are designed with the purpose of improving PC experience.
Nowadays malicious programmers have infected this AutoRun feature. Any kind of virus from USB flash can easily be attached to this autorun.inf.
So this means two tasks will be performed at the same time, by you. One is installing a virus and the second is plug in your USB.
After this, the virus will do things it is programmed to do.  Some viruses are designed to add keylogger into your PC. Through these keyloggers, hackers track your keystrokes for stealing up personal details like financial information, passwords, etc.
Shortcut Virus Spread Path: Shortcut Virus-infected PC > Infect external storage devices like pen drive, memory card, flash drive > spread the infection to saved Files and Data > hide or encrypt them by creating a shortcut files
How To Remove Shortcut Virus From Pen Drive Without Losing Data?
For removing shortcut virus from Pendrive, I have listed here 4 best fixes. All the fixes are explained with complete steps, so you can follow any of these methods according to your preference.
Method #1: Remove Virus From Pen Drive Without Losing Data Using CMD
You can try removing shortcut virus from Pen drive, Memory cards, PC, Hard disk, etc. using Command line or cmd. Here we have explained how to remove shortcut virus from Pendrive using CMD in two different ways. But be careful because inappropriate use of command prompts may put you into a serious issue. Just follow the steps given below.
1. From your keyboard press the Window + R keys simultaneously. Very soon you will see Run wizard will automatically get open on your system screen.
2. In the RUN wizard box, type CMD after then press the Enter key.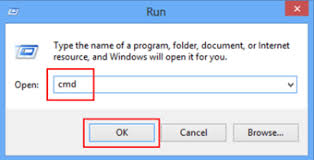 3. this will open the Command Prompt on your PC. Also, check whether your USB flash drive or PenDrive is correctly connected with your PC or not.

4. In your opened command prompt screen type "E:" and press Enter.
Note: check what drive letter is your system showing after connecting the Pendrive. You have to use that drive letter by replacing "E:"
5. After then type: del autorun.inf or del *.lnk and press the Enter button.
6. Now type: attrib -h – r -s  /s /d E:*.* and press the Enter button. (Again you have to replace E: with your infected device drive letter).
Method 2: Create a BAT File 
Another very simple way of removing shortcut virus using CMD is by creating a BAT file.
For this first, you have to know, what a BAT File is?
BAT file is simple text files having some command lines that get executed in sequence. These files have extension .bat or .cmd.  
Once you create such a BAT file, you don't need to type commands every time. Just run the BAT file to remove the existing shortcut virus from a connected device or from your PC.
So what are you waiting for let's create a BAT file?  By creating a BAT file, you can simply run the BAT file and use it to clear and remove the existing shortcut virus with below steps:
Firstly you have to connect your respective SD card, pen drive, USB drive with your system.
Open your Notepad application and copy the below code into it.
@echo off

attrib -h -s -r -a /s /d G:*.*

attrib -h -s -r -a /s /d G:*.*

attrib -h -s -r -a /s /d G:*.*

@echo complete
Note: You have to replace G: with the infected storage device drive letter.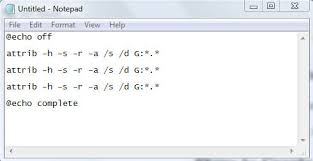 After then save this notepad file with extension .bat and keep it on your desktop only.
For running this file you just need to double-click this created .bat file and wait some time until the complete process gets over.
There are 95% chances that shortcut virus gets removed from Pendrive using CMD. But if this won't resolve your issue then move on to our next fix.
Method 3: Use Reliable Anti-Virus Program To Remove Shortcut Virus From Pen Drive
After using the above stated manual fixes if the problem still persists then you should try an efficient Malware Removal Tool.
As this will surely help you to remove shortcut virus from Pendrive without any data loss.

Method 4: Format Your Pendrive To Remove Shortcut Virus
Last but not the least solution left is to format your Pendrive but performing this also has some condition. Do this only if you have a proper backup of your data otherwise complete data will lose after formatting the Pendrive.
Undoubtedly, as compared to other approaches formatting the Pendrive remove shortcut virus more quickly.
 Follow the below steps sequentially for formatting a pen drive.
First of all, connect your virus-infected Pendrive with your PC.
Go to your system Start menu and after then open My Computer/This PC.
Now make a right-click on the drive assigned here for your infected pen drive.
From the listed option, choose the Format option.
Your PC will ask for the confirmation of formatting your Pendrive. If you agree to this, click on the YES option.
Method 5: Delete Suspicious Keys In Registry Editor
In this method, we will remove some shortcut virus related suspicious keys from the Registry editor. Let's know how this is to be done.
1. From your keyboard press the key Windows + R together. In the opened Run box type the text Regedit and press Enter.
2. This will open Registry Editor on your screen. Now follow the path  : HKEY_CURRENT_USER > Software > Microsoft > Windows > CurrentVersion > Run.
3. Search the suspicious keys from the listed programs.
Name of some suspicious keys are odwcamszas, WXXKYz, ZGFYszaas, OUzzckky, etc. after getting that delete them off.
Note:
Deletion of the wrong registry key may put you into serious PC issues including malfunctioning of PC features or improper execution of system application.
So, perform any operation in the registry editor very carefully.
Bottom Line:
Now that you know "How to Remove Shortcut Virus from Pendrive" so make your Pendrive data free from viruses.
I also want to suggest all my readers make a good habit of keeping backup of your data in several locations not only in one device. If you have a proper backup you don't have a worry about any virus or corruption issue.