Slideshows are the best element on an image-heavy or content-centric website to showcase featured images to the visitors. And therefore, among the most useful plugins for your WordPress site are the slideshow plugins that make it really easy for you to create and manage slideshows on your website.
And so, here are 30 of the most useful and free WordPress slideshow plugins that suit any website. These are different plugins with varied features and you can only know which one would suit you best once you go through the list. So, let's check them out.
More related posts:
MetaSlider
One of the most used slider plugins, MetaSlider, supports different types of slideshows like Flex Slider 2, Nivo Slider, Responsive Slides, and Coin Slider. Few of its exceptional features are drag-and-drop slide rearrangement, full-width support, and multiple slideshow configuration options.

Slider by WD – Responsive Slider
Slider by WD supports displaying images as well as videos from YouTube and Vimeo along with transition effects and layer support. Moreover, it offers image watermarking support, full-width sliders, and various customization options. However, video support is available only in the premium version.
Genesis Responsive Slider
As its name suggests, Genesis Responsive Slider allows you to choose specific posts, pages, or categories and shows them in maximum possible dimension, thanks to its responsive nature. Additionally, it includes previous and next arrow buttons, but it only works with child themes of Genesis.
Cyclone Slider 2
Cyclone Slider 2 supports multiple types of slides including images, videos, custom HTML, and testimonials. It is translation-ready and comes with four beautiful templates – dark, default, standard, and thumbnails.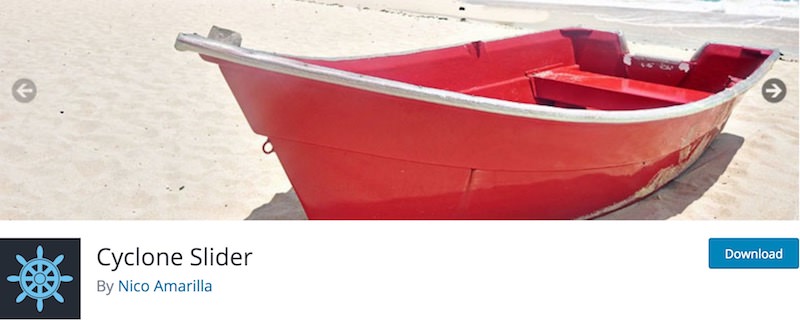 WP Photo Album Plus
This slider plugin is excellent multimedia management and display system that supports managing photo albums. It can show images in slideshows using its lightbox tool. What I liked more is its customizability options – almost every feature is customizable, and it even avails 20 widgets.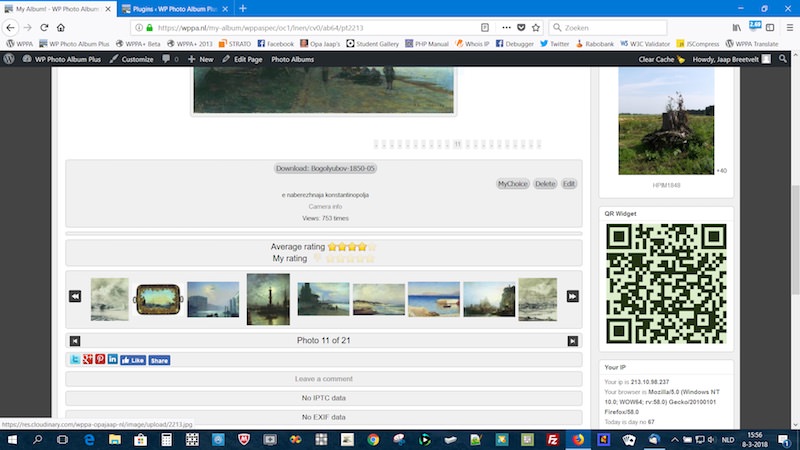 GIGA Slider
A quick and useful slider that supports creating unlimited sliders with different color schemes and transition effects. Moreover, it supports multiple layouts and provides numerous customizability options.
Slider by Nivo
Slider by Nivo allows creating a post slider, an image carousel or a slideshow with custom settings. You can choose from various themes and develop multiple sliders to host different content or show at different places.
Slideshow Gallery
Slideshow Gallery supports custom added slides, galleries, and slides from posts or pages. You can show slideshows using shortcodes and customize numerous parameters to change the look and feel of the slideshows.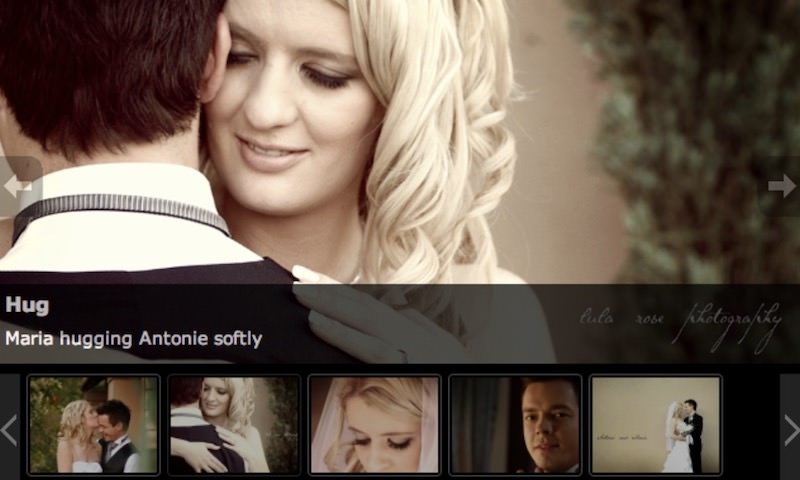 Opinion Stage
This plugin lets you add a highly customizable slideshow on your website to showcase products or featured posts or create tutorials. Its slideshows allows adding text, images, and videos as well, like videos from YouTube.
Serious Slider
An SEO-friendly, translation-ready image slider which allows creating unlimited slides with texts, links, and buttons. It includes more than seven color styles and transition effects as well as a widget to show sliders in the sidebar.

Testimonial Slider
A unique slider that displays the feedbacks and testimonials submitted by your customers with their avatar, name, and company details. It offers five skins, multiple effects, and support for category-specific testimonial sliders.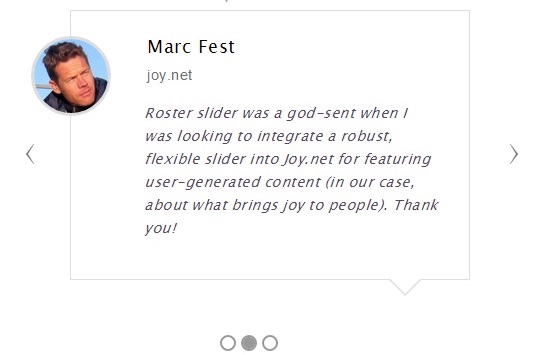 Image horizontal reel scroll slideshow
This simple slider plugin allows showcasing images along with hyperlinks. It lets the scrolling begin automatically and pause on mouse hover. Also, it supports translations and even offers many customization options.
WonderPlugin Slider Lite
WonderPlugin Slider Lite can create image and video sliders with support for YouTube, Vimeo, and mp3/mp4 videos. Like the above-given plugins, it supports various transition effects and offers a widget as well.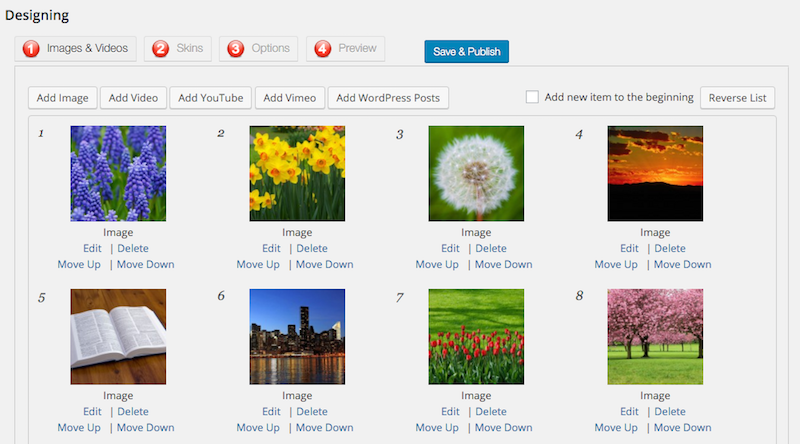 Owl Carousel
A fantastic slider that supports post, image, video, and HTML slides, Owl Carousel is fully customizable as well as responsive. Also, the carousels can be placed anywhere, thanks to its shortcode support.
EasyRotator for WordPress
EasyRotator plugin lets you create responsive photo rotators (sliders) with multiple templates. You can create unlimited sliders along with audio and video support. Also, the plugin is SEO-friendly and highly customizable.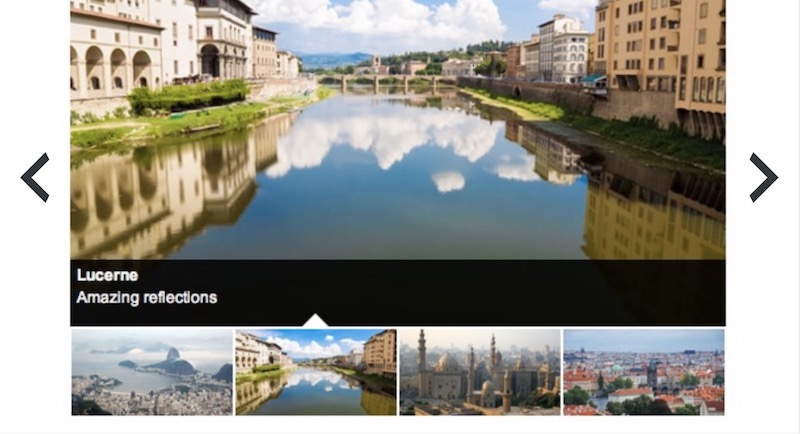 Text Slider
As its name suggests, this plugin creates text-only sliders. You can customize their fonts, colors, and transition effects as well. Moreover, the slides can be embedded in any post, page, or widget with its shortcode.

Gallery Slideshow
Gallery Slideshow converts any photo gallery into a stunning slideshow to show your visitors. It supports various shortcode attributes to customize the sliders, and you can also opt to include captions for the photos.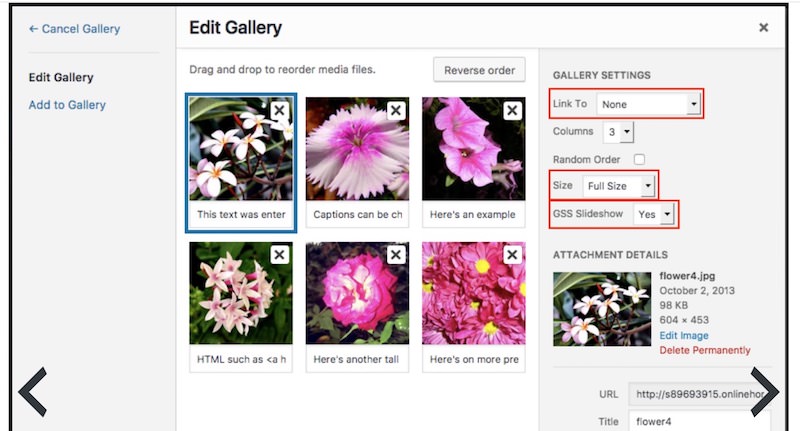 Video Slider
As the name suggests, this plugin shows slideshows of videos from YouTube and Vimeo in responsive mode. You can add call-to-action buttons and overlay more info like titles, dates, and captions on the top of the sliders.
2J Slideshow
2J Slideshow comes with a classic yet stylish design including numerous transition effects. You can add bulk images to a slider and add it to any post. Moreover, it offers a full-screen mode, which is missing in few others.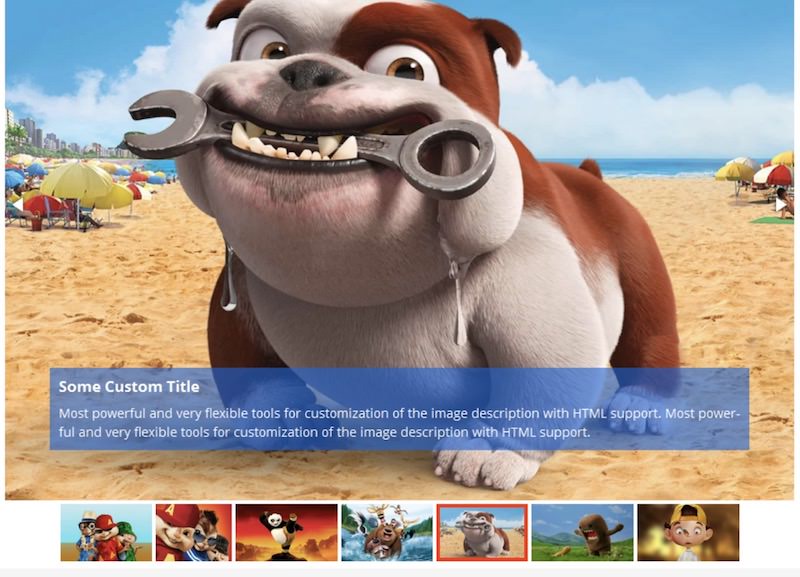 Slideshow CK
Slideshow CK allows creating unlimited sliders and comes with an ergonomic drag-and-drop interface. You can add images and videos along with captions. Also, the slider can be loaded using its shortcode and widget.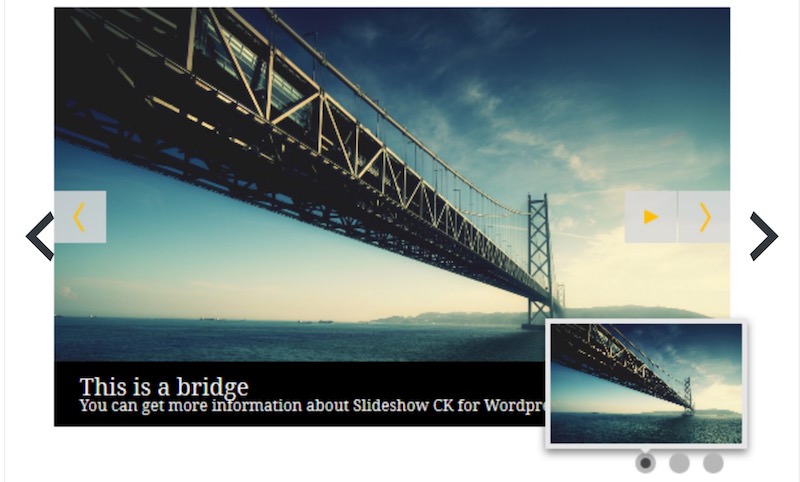 Google Photos Gallery with Shortcodes
Google Photos Gallery is built on Google Picasa API, and it displays photo albums from your Google Photos library. The slides can be shown in grid view, list view, or carousel view along with the images' titles and captions.

Fancy Slideshows
A fascinating slider, Fancy Slideshows, supports multiple slide sources like images, links, posts, and pages. You can customize various settings including transition effects, navigation buttons, smart cropping, etc.
Slick Slider
With Slick Slider, you can transform your photo gallery into a stunning slideshow. It supports lazy loading of images and adding different effects to your slides. Moreover, you can adjust numerous other settings.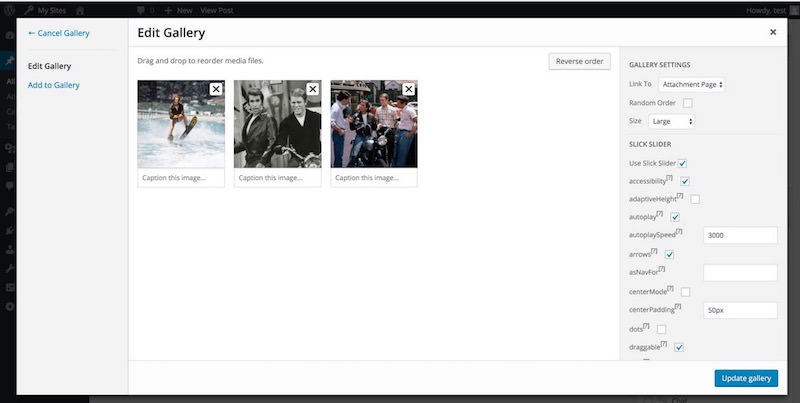 Creative Image Slider
Creative Image Slider provides terrific visual effects and comes with a live-view wizard to generate appealing sliders in seconds. It supports configuring autoplay option and setting flexible overlays like text, button, etc.
Slidely Slideshows Embed
An amazing slider that can be easily embedded on your site by adding the slideshow address in any post or page. It also offers advanced customization options like width, height, autoplay, and few more.
Image Slider
A beautiful responsive slider to showcase your best photos, Image Slider lets you create banners with images, videos, text, titles, and links. Also, it offers simple customizability options to control animations, add captions, etc.
Layer Slider
Layer Slider lets you create a responsive slider with image and text along with a background image behind each slide. It also offers custom settings to configure animation effects and look & feel of image layers.,

Superb Slideshow
A slider that offers fading effects, Superb Slideshow lets you optionally hyperlink the slides or add descriptions. What I find unique is that the slider saves the last played slide and resumes from that slide even if the page is refreshed.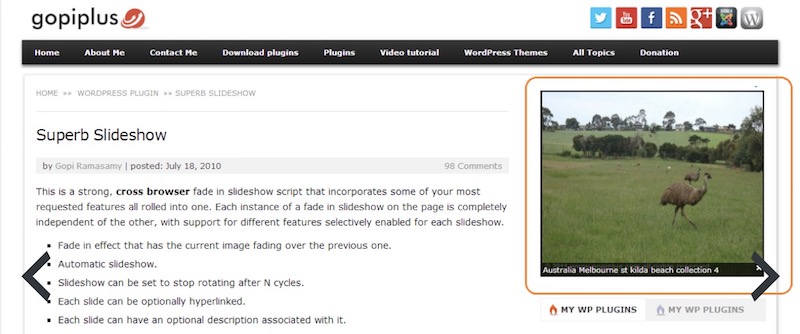 Responsive Slider / Slideshow
As the name suggests, this responsive slider plugin offers smooth transitions and easing effects. Its autoplay can be paused by user interaction, and you can also hyperlink the slides, as offered by Superb Slideshow too.
Responsive Flickr Slideshow
As the name suggests, this responsive slider plugin allows embedding photo albums from Flickr on your website. It avails shortcodes to help you place the slideshow in any post or page, but you can show just images, unlike few others.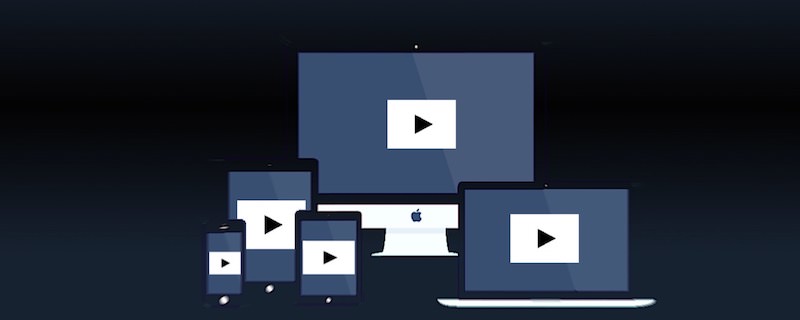 Bonus: More
Sangar Slider
Sangar is a powerful slider plugin for WordPress that lets you upload media easily, then drag and drop the images into the order that you like. Each slide can be customized through the Custom CSS option, and the plugin has an abundance of custom hooks and filters that let developers customize the slider at code level. [Demo]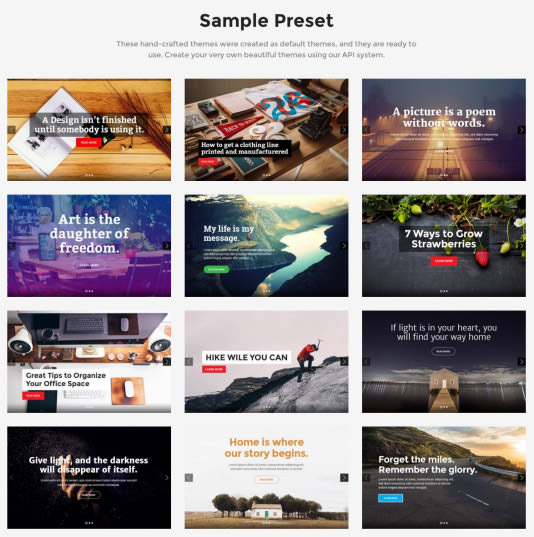 Crelly Slider
Another good WordPress slider plugin with browser compatibility stretching way back to IE8. The plugin comes with a great deal of options that enable us to customize the slide in detail such as slide transition, position, color, images, the slide control and etc. [Demo]
Soliloquy Lite
This plugin runs a smart slider, loading the CSS and JS only when the slide is displayed within the post. Your posts and pages will load faster with this plugin compared to the other plugins mentioned here. The slider is responsive, touch-enabled, and built with SEO in mind. [Demo]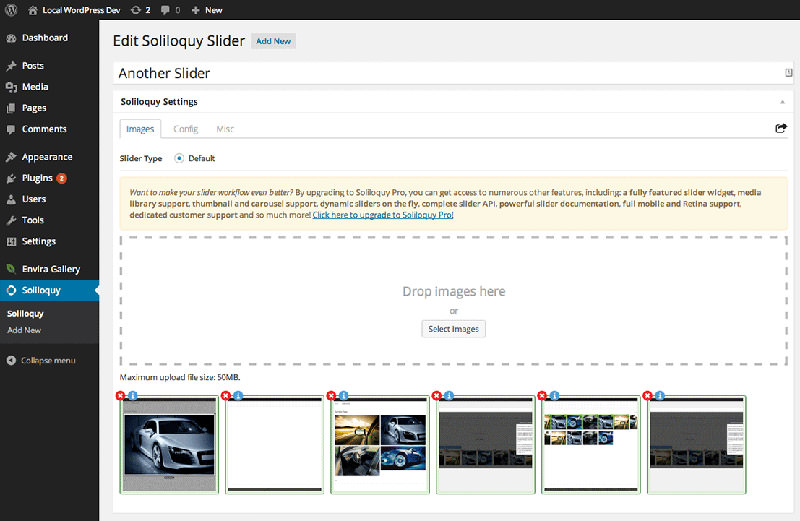 HG Slider
This plugin utilizes the Flexslider library to power up the slider. The slider supports touch gestures to navigate the slider, infinite cycle, and you can opt for CSS Transition for better performance. It comes with shortcodes and template tags with an array of configurable arguments to customize the slider output.