So you're here to read our Divi theme review and learn all about this product from Elegant Themes right? You've probably already heard about this theme somewhere but are still not sure whether this is the right choice for you? Maybe you don't know whether it's too complicated for you if you're not technical in web design and WordPress? Or maybe you think it's going to restrict you in some way?
Fret not anymore! We're here to help. We're frequent users of this super-theme from Elegant Themes and we can tell you ALL about it – in a true, honest and unbiased fashion.
We can tell you all about its great things, what things work brilliantly well, what could work better, what you could use it for and where and who should avoid using it. In this way, you can make up your own mind on whether this is the right tool for you, your website and ultimately your business.
Here's our full Divi theme review, an excellent combination of a premium WordPress theme and Visual Page Builder.
Create a professional site without coding with Divi 3.0 Theme and Divi Builder
Summary
Our overall rating: (5 out of 5) – Excellent – highly recommended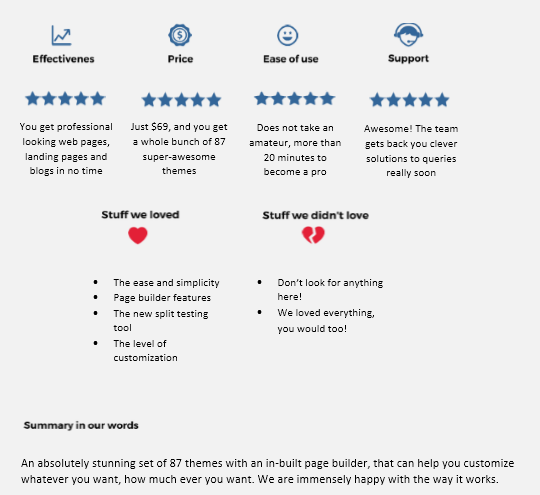 Visit Elegant Themes and get a 10% discount (until )
PS. The above 10% offer is only available through the above link. 
Introduction video
If you want to get a quick overview of what this plugin is all about, this video says it all. "If you had to describe this plugin in one simple word: Magic." This video offers a tiny glimpse at the new Divi Builder plugin. If you are i